Common Car Accident Injuries in Baltimore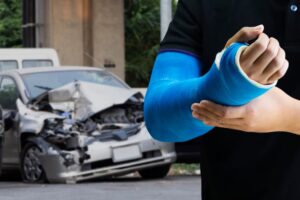 If you were injured in a car accident in Baltimore, you could be entitled to significant compensation from the party at fault for the crash. If a distracted, intoxicated, reckless, or otherwise negligent driver harmed you, Maryland law gives you the right to hold them accountable.
At Cohen & Dwin, P.A., our Baltimore car accident attorneys understand that the idea of pursuing an injury claim or lawsuit after an accident can seem daunting. We're here to take the pressure off you by managing every aspect of your case while you focus on recovering from your injuries and getting back on your feet.
Contact us today for a free consultation to discuss your accident, your rights, and how our attorneys can help you seek justice.
Most Common Car Accident Injuries in Baltimore
Millions of people sustain severe or catastrophic injuries in car accidents every year. Some of the most common injuries that occur in Baltimore car crashes include:
Facial injuries and dental trauma – Blunt-force impacts with steering wheels or dashboards and broken glass from windshields can result in severe lacerations and trauma to the head, face, and jaw.
Traumatic brain injuries (TBI) – Direct trauma to the head or even abrupt stops that jostle the brain within the skull can cause TBI, affecting how the brain works and potentially even resulting in death.
Concussions – A concussion is a common and relatively mild type of TBI. The symptoms of a concussion are often subtle and may not be detected until crash victims seek medical attention.
Whiplash – Whiplash is a common car accident injury that can occur even in low-speed crashes. The sudden and unexpected force of an impact could cause vehicle occupants' heads to snap back and forth suddenly, cracking the neck like a whip. Whiplash can leave victims with pain, stiffness, headaches, dizziness, and even cognitive difficulties.
Back injuries – The back is highly vulnerable to injury in a car crash. Herniated discs are painful car accident injuries that occur when the discs that cushion vertebrae in the spine become displaced.
Spinal cord injuries and paralysis – Some of the most severe back injuries involve trauma to the spinal cord, resulting in loss of sensation and motor function or even total paralysis below the injury site.
Broken bones – Bones can quickly become dislocated, fractured, or shattered in an accident when occupants slam forward into seatbelts, airbags, or dashboards, get ejected from vehicles or get crushed by the weight of other vehicles.
Chest injuries – Although seatbelts undoubtedly save lives, many accident victims also sustain severe chest injuries such as fractured ribs and lung contusions from being slammed forward into safety restraints.
Torso injuries – Crumpling vehicle frames, broken glass, and blunt-force impact with seatbelts, airbags, or dashboards can result in direct trauma to the torso and leave accident victims with internal bruising or bleeding.
Internal organ trauma – In severe cases, abdominal puncture wounds or high-impact collisions can leave car accident victims with direct trauma to internal organs, which can be fatal without immediate medical attention.
Soft tissue injuries – Many car accident victims suffer strains, sprains, and tears to soft tissues such as muscles, tendons, and ligaments. Although these injuries may seem minor, they can result in painful, long-term symptoms if left untreated.
Cuts and bruises – Cuts, scrapes, and bruises can occur when loose objects or broken glass fly around the interior of a vehicle during a crash and hit the body. In severe cases, deep cuts may require stitches. Airbags and seatbelts also frequently cause substantial bruising.
Burns – Hot metal, steam, and explosions can result in thermal burns in a car accident, while caustic spills can cause chemical burns. Crash victims can also sustain friction burns or "road rash" from contact with hard, rough surfaces.
Amputations – Car accidents are a top cause of traumatic amputations, which occur when vehicle occupants lose limbs or digits when they are severed by sharp metal or glass or crushed by the weight of other vehicles.
Emotional injuries – Even relatively minor accidents can leave victims with severe emotional distress, leading to emotional and psychological issues such as post-traumatic stress disorder (PTSD), new phobias, depression, anxiety, and sleep troubles.
Wrongful death – Tragically, some car accidents ultimately prove fatal. When someone is killed due to someone else's negligence, their surviving loved ones may be entitled to seek financial compensation by filing a wrongful death claim.
Types of Compensation for Car Accident Injuries in Baltimore
If you were injured in a Baltimore car accident through no fault of your own, you have the right to seek money for your losses by filing a car accident claim. Depending on your circumstances, you could be entitled to compensation for:
Medical bills – The cost of any medical care you receive for accident-related injuries, including costs associated with ambulance rides, hospital stays, doctor's visits, prescription medications, and durable medical equipment.
Out-of-pocket costs – Any incidental, accident-related expenses you pay for out-of-pocket, including things like the costs of travel to and from medical appointments and the costs of hiring in-home caretakers.
Lost wages – The value of any reductions in your take-home pay from the time you miss at work while you are recovering from your accident-related injuries.
Future losses – The projected value of future losses you will likely incur due to the accident, such as the costs of any medical care you will need in the future or the projected value of losses in your future earning potential.
Pain and suffering – The intangible costs of the physical pain, psychological anguish, and emotional suffering you endure due to the trauma of the accident and the physical injuries you sustain as a result.
Repair expenses – Any expenses you incur to repair or replace your vehicle or any other personal property damaged or destroyed in the crash.
Contact Our Experienced Baltimore Car Accident Lawyers Today
The Baltimore personal injury attorneys of Cohen & Dwin, P.A., have more than 40 years of experience standing up for the rights of those who've been injured in accidents due to negligence.
Contact us today for straightforward answers to your most pressing questions in a free initial case review.