Baltimore Car Accident Lawyer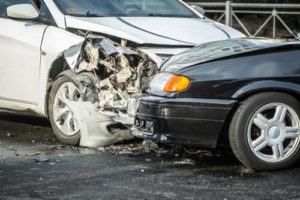 When you are on the roads of Baltimore, you expect that your fellow motorists will exercise an appropriate level of care and skill behind the wheel. When other drivers are negligent and cause a car accident that leaves you coping with serious injuries, you deserve to seek compensation and justice for the losses you incur.
At Cohen & Dwin, P.A., we help people who have been injured through no fault of their own in car accidents throughout Maryland. For more than 40 years, we have fought to protect the rights of victims like you, helping you demand the full and fair compensation you need to begin to put your life back on track.
If you are a car accident victim in Baltimore, contact us today to speak with one of our experienced auto accident lawyers. The consultation is free.
How Our Baltimore Car Accident Lawyers Can Help
Many times, the victims of car accidents don't know their legal rights. They think they suffered a minor accident, so they report it to the insurance company and then try to move on with their lives. When serious injuries crop up later, they're not in a position to seek the compensation they deserve.
Don't try to evaluate your own case, and don't talk yourself out of pursuing your legal rights. Speak with our car accident lawyers in Baltimore as soon as possible after your accident. We can help by:
Evaluating your case at a free initial consultation
Investigating your accident to determine its cause
Documenting your current and future losses to determine what full compensation should be
Negotiating with the insurance companies on your behalf
Pursuing compensation for your medical bills, lost wages, pain and suffering, and other expenses
At Cohen & Dwin, we can provide you with the dedicated, knowledgeable, vigorous legal representation that you need after a serious accident. Since 1977, we have had Maryland residents seek justice when they have been injured in car accidents through no fault of their own. Our attorneys have over 100 years of collective experience, and we are ready to put that experience and knowledge to work for you.
Your initial consultation with us is completely free and comes with no obligation. Calling us costs you nothing, and that one phone call can result in a tremendous change in your life.
How to Prove Fault in a Car Accident
If you were in a car accident that you believe was someone else's fault, you will typically need to prove the other party's negligence.
There are four elements to a negligence claim:
Duty. You must first prove that the other driver owed you a duty of care. This is usually straightforward since every driver owes all other trucks, motorcycles, and pedestrians a duty to operate his or her vehicle in a careful manner.
Breach. Next, you must prove that the other driver breached his or her duty. Many disputes over liability in car accident cases center on this issue. A driver can breach the duty of care by failing to drive in a careful manner. This includes speeding, failing to signal a turn or lane change, or texting and driving.
Causation. You must also prove that the other driver's breach of duty caused the accident.
Damages. Finally, to have a viable car accident claim, you must demonstrate that you have suffered some form of compensable damages, such as having incurred medical bills, lost wages due to missed work, or endured pain and suffering as a result of the injury.
Proving fault in a car accident can be a complicated, fact-intensive effort. For over four decades, the Baltimore car accident attorneys of Cohen & Dwin have fought to help victims of car accidents pursue the compensation they deserve.
Compensation in a Car Accident Claim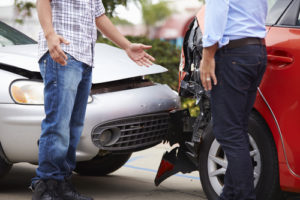 When you are involved in a car accident caused by someone else's negligence, you may be entitled to various kinds of compensation for the injuries that you suffer. Compensation for personal injuries falls into two categories: economic damages and non-economic damages.
Economic damages are intended to provide compensation for losses that can be easily calculated by looking at bills, invoices, or paystubs. Examples of economic damages include:
Medical expenses, such as hospital bills, doctors' bills, surgeries, prescription medication, physical and occupational rehab, therapy, medical equipment or prosthetics, home health care, or home alterations
Lost income or wages, when you miss time from work due to your recovery from your injuries
Lost earning capacity or potential, if your injuries temporarily or permanently disable you from performing the kind or quantity of work that you used to perform
Non-economic damages are meant to compensate you for more subjective losses that you suffer as a result of your injuries, such as:
Pain and suffering, which is the emotional and/or physical anguish or distress that is caused by your injuries
Loss of quality of life, which can be caused by anxiety arising from disfigurement or lack of physical capacity that prevents you from performing daily tasks or participating in activities you enjoyed before your accident
In addition to compensation for personal injuries, you may be entitled to compensation for damage to your property in the accident. For example, you can seek repair or replacement costs for a vehicle damaged in an accident, along with any personal property that was damaged or destroyed.
If you have questions about the kinds of compensation that you may be entitled to receive in a car accident claim, let our Baltimore car accident attorneys put our more than 100 years of combined experience to use in helping you.
Statute of Limitations on Car Accident Cases in Baltimore
If you have been hurt in a car accident, you have a limited period in which to file a personal injury lawsuit to assert your claim for compensation. This period is called the statute of limitations. In Maryland, the statute of limitations for personal injury and property damage claims arising from a car accident is three years from the date of the accident. If you fail to file your lawsuit within the statute of limitations, the court can permanently dismiss your case.
Certain exceptions can pause, or "toll," the statute of limitations. One of the most common reasons for tolling the statute of limitations is called the discovery rule, which tolls the statute of limitations from running until you "discover" either your injury or the facts and circumstances giving rise to your claim. There is also a special statute of limitations rule for minors who are involved in car accidents – the statute of limitations does not begin to run for a minor until he or she turns 18 years old.
Wrongful Death from a Baltimore Car Accident
If your loved one was killed in a car accident due to a hit-and-run or another collision, you and your family may have a potential wrongful death claim. A wrongful death claim arising from a car accident is very similar to a personal injury claim. However, instead of the injured party bringing a claim, the family of the deceased person brings the claim to seek compensation for their losses and the estate of the deceased person.
Wrongful death claims are typically divided into two types of claims:
Survival actions are brought on behalf of the estate of the deceased person, seeking compensation for losses such as final medical expenses, funeral and burial expenses, and the conscious pain and suffering the deceased individual suffered immediately before his or her death.
Wrongful death actions are brought on behalf of the surviving spouse, parents, and/or children of the deceased person, seeking compensation for the loss of the deceased individual's economic contribution to the family, the loss of companionship, and the loss of support and services to the family and household.
To learn more about your family's legal rights after a fatal car accident, please contact our law firm today.
How to Protect Your Rights after a Car Accident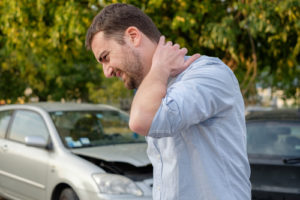 There are steps you should take to protect your rights to pursue compensation for the injuries and damages you have suffered in a car accident.
Of course, before doing anything else, you should first ensure that everyone involved in the accident is safe and has received immediate medical attention. Even if you refuse medical attention at the scene, you should nevertheless seek medical treatment for any injuries you've suffered as soon as possible. Seeking prompt medical treatment only improves the prognosis and timeline for your recovery. Prompt medical treatment will also allow you to document your injuries from the car accident.
In addition to getting medical help, you should report your crash to the police. The responding officers will investigate the crash and file a report. You should request a copy of this accident report.
If possible, you should also try to take photographs of the accident scene. In particular, you should try to photograph the positions of the vehicles (if they have not been moved), the damage to the vehicles, any skid marks on the road, the traffic controls around the scene of the accident, and the general weather, lighting, and road conditions at the scene. These photographs may help develop a reconstruction later to demonstrate how the accident occurred and who may have been responsible for it.
Finally, you should avoid making admissions of fault or any other statements to insurance companies. Do not accept any offers of compensation or settlement without first speaking to one of our experienced Owings Mills car accident attorneys.
Insurance companies and defense attorneys will use any statements you make to reduce or eliminate the compensation they are required to pay. Having a knowledgeable personal injury attorney represent you ensures that your interests are protected every step of the way.
Let the Baltimore car accident lawyers at Cohen & Dwin protect your rights. Since 1977, we have helped accident victims across Maryland get the compensation they deserve to move forward with their lives.
Types of Car Accident Injuries
Every year, more safety features become standard across a wider range of vehicles. Still, car accidents can inflict a wide range of injuries. In our decades of experience at Cohen & Dwin, the most common types of car accident injuries that our Baltimore attorneys see include:
Broken bones
Neck and back injuries, including whiplash injuries, herniated discs, sprains, and strains
Spinal cord injuries and paralysis
Head and brain injuries, including concussions, traumatic brain injuries, internal bleeding, or skull fractures
Burn injuries
Soft-tissue injuries, including sprains, strains, and tears of muscles, tendons, and ligaments
No matter what injuries you have suffered in a wreck, the Baltimore car accident lawyers of Cohen & Dwin can help you demand the full financial compensation you deserve.
Baltimore Car Accident Law for Parents and Children
If you are under the age of 18 and have been injured in a car accident caused by one of your parents, you may still be entitled to compensation for your injuries. Specifically, Maryland law provides an exception to parent-child immunity, allowing a child to bring an action against a parent for wrongful death, personal injury, or property damage arising out of the parent's operation of a motor vehicle.
Maryland law can be very confusing when it comes to car accident cases between parents and children. Let the Baltimore car accident lawyers at Cohen & Dwin bring 100-plus years of collective experience to bear in helping you understand your rights and options for seeking compensation for injuries arising from a car accident caused by your parent or child.

Talk to a Baltimore Car Accident Attorney Now
When you are injured in a car accident, you need to learn about your right to compensation for all the losses you endure, including medical bills, lost wages, and pain and suffering. But you don't have to fight alone.
Let the Baltimore car accident attorneys of Cohen & Dwin use our decades of experience to fight on your behalf. Contact us today to schedule a free consultation with one of our experienced car accident lawyers to learn more about your legal rights.