Rideshare Car Accident Lawyer in Baltimore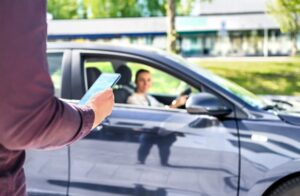 Rideshare companies like Uber and Lyft have become popular ways to get around busy cities like Baltimore. However, these companies also put more traffic on the roads, increasing the risk of accidents that can leave victims with severe injuries and steep medical bills. In some cases, people injured in rideshare accidents develop lifelong disabilities that keep them from working and reduce their quality of life.
At the law firm of Cohen & Dwin, P.A., our Baltimore rideshare car accident attorneys want to help you pursue compensation for the harm you've suffered. We have more than 100 years of combined legal experience and are known for aggressively pursuing every cent our clients are entitled to. Because we don't charge any fees unless we win, there's no risk in putting our experience, tenacity, and compassion to work on your case.
Find out more about how we can help when you contact us today for a free consultation with a rideshare car accident lawyer in Baltimore. 
What Are the Most Common Causes and Types of Rideshare Accidents?
Some of the most common causes of rideshare accidents in Baltimore include:
Impaired driving

 – A drunk or high driver is at greater risk of crashing into another car, a pedestrian, or a cyclist and causing severe injuries. That is true whether the driver is operating a rideshare vehicle or is simply sharing the road with one.

Distracted driving

 – Distracted driving is one of the 

leading causes of car accidents

. Anything that takes a motorist's hands from the wheel, eyes from the road, or attention from the task at hand is a distraction.

Drowsy driving

 – Rideshare drivers have an incentive to log long hours to maximize the money they earn. However, driver fatigue can lead to severe crashes that harm occupants of the rideshare vehicle and others on the road.

Failing to yield

 – Any motorist who disobeys right-of-way laws dramatically increases the chance of causing a collision. Rideshare operators might be more likely to fail in this duty if they are driving in an unfamiliar area and distracted by the GPS navigator that selects their route, for example.

Mechanical failure or defects

 – Rideshare drivers need to service their vehicles more often to account for the added wear and tear on them. If drivers do not keep their vehicles in good working order, critical components can fail, leading to a collision. Furthermore, a defective part could cause a crash even if the rideshare driver did nothing wrong.

Poor road conditions

 – Bad weather and other issues affect rideshare drivers like everyone else who uses Baltimore roads. Rideshare drivers need to be extra careful in poor road conditions to ensure they get their passengers to their destinations safely.
These circumstances lead to different types of crashes, such as:
Rear-end collisions
Sideswipe collisions
Side-impact collisions

(also known as T-bone or broadside collisions)

Head-on collisions
Pedestrian accidents
Bicycle accidents
Common Rideshare Accident Injuries
Rideshare accidents in Baltimore can cause injuries such as:
Traumatic brain injuries
External injuries to the head and face
Spinal cord injuries
Neck injuries
Back injuries
Crushed or severed limbs
Internal organ injuries
Internal bleeding
Severe burns
Scarring and disfigurement
Broken bones
Sprains, strains, and other soft-tissue injuries
Bruises and lacerations
Emotional distress
Insurance Coverage for Rideshare Accidents
Rideshare accidents are more complicated than other traffic collisions because of the complex insurance issues involved. For example, Uber and Lyft provide up to $1 million in liability coverage, but this coverage applies only when a rideshare driver either has a fare or is on their way to pick up a passenger.
If a rideshare driver hits another vehicle while the app is on and they are waiting for a fare, the rideshare company offers more limited insurance coverage. Uber, for instance, provides the following coverage to drivers who are logged into the app but do not have an active rider:
$50,000 in bodily injury coverage for a single person injured in a crash

$100,000 in bodily injury coverage for all people injured in a crash

$25,000 in property damage coverage per accident
If a rideshare driver collides with another car but is not logged into the app, then the driver's own auto insurance coverage is typically the only one that applies. Our rideshare accident lawyers can review the circumstances of the accident that injured you and tell you more about what insurance policies may apply.
Uber and Lyft Accident Statistics
Maryland authorities do not provide data on the number of accidents involving rideshare drivers. However, a study from the University of Chicago found that rideshare apps may be behind a 2-3 percent increase in traffic deaths nationwide. The study's authors also noted that large, urban areas like Baltimore saw a higher increase in traffic deaths than less populated areas.
Available Damages in Rideshare Accidents in Baltimore
Depending on the extent of your injuries and other factors, the compensation you could receive in a Baltimore rideshare car accident case may include money for:
Medical expenses
Lost wages and other income
Reduced future earning capacity
Diminished quality of life
Physical pain
Emotional distress
Proving Negligence and Recovering Compensation for a Baltimore Rideshare Injury Case
To recover compensation in a rideshare injury case, you must show that someone else caused your injuries. The potentially liable parties in these cases include the rideshare driver, other motorists, automakers, and parts manufacturers, among others. 
A rideshare car accident lawyer at Cohen & Dwin, P.A., can help you find the evidence you need to establish liability, which may include:
Police accident reports
Eyewitness accounts
Surveillance videos
Photos from the crash scene
Medical records
Cell phone records
Expert testimony
What to Do If You're Involved in a Baltimore Rideshare Accident
Here are the steps to take if you sustain injuries in an accident involving a rideshare vehicle:
Contact authorities

to report the accident.

Seek medical attention

and save all your medical records.

Ask for contact info

from the rideshare driver and any other drivers involved in the crash, including their name, address, phone number, driver's license number, vehicle registration number, and insurance information.

Take photos

of the crash scene.

Check for eyewitnesses

and get their contact info.

Note any nearby security or traffic cameras

.

Do not make posts about the crash on social media.
Do not talk to any insurance adjusters

until you have met with an attorney.

Hire a rideshare accident lawyer.
When to Contact a Baltimore Lawyer After an Uber or Lyft Accident
The best time to contact a rideshare accident attorney is as soon after a collision as possible. A lawyer can preserve crucial evidence from the scene, document the extent of your losses, and negotiate with insurers. The longer you wait to hire an attorney, the harder it might be to recover compensation.
At Cohen & Dwin, P.A., our Baltimore rideshare car accident attorneys are ready to help you demand the money you need for your injuries and other losses. Contact us today for a free consultation.