Baltimore Train Accident Lawyer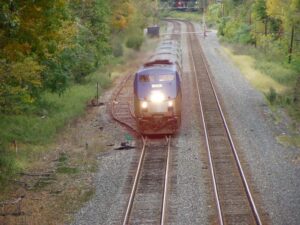 If you have been hurt in a train accident in Baltimore, the law firm of Cohen & Dwin, P.A., wants to help you demand the compensation you need, just as we've done for countless other people in Maryland over the nearly half-century since our firm was founded in 1977. Our six attorneys have more than 100 years of combined legal experience we can bring to your case. We won't rest in our pursuit of the money you need for your medical bills, lost wages, pain, suffering, and other losses.
Don't pay the price of an injury that wasn't your fault. Contact us today for a free consultation with a Baltimore train accident lawyer and find out what Cohen & Dwin, P.A., can do for you.
Types of Trains Serving Baltimore
As a major population center along America's eastern corridor, Baltimore is served by a variety of passenger rail systems, including:
Amtrak
Maryland Area Regional Commuter (MARC) Rail
Light RailLink
Baltimore is also an industrial hub, meaning freight trains frequently operate throughout the area.
Causes of Train Accidents in Baltimore
According to the National Highway Traffic Safety Administration (NHTSA), train accidents happen daily. Some common examples of train accidents include:
Train accidents can happen for many reasons, including:
Defective design

of train components

Defective train tracks
Defective signals

, which regulate the flow of train traffic

Faulty components

, which may be inherently defective or may become defective over time

Failure to service a train

on a routine basis or to address any specific mechanical issues

Train derailment

, which can result from sudden stopping, collisions, or faulty train components

Poor decision-making

by a train conductor, rail traffic controller, or another person who is responsible for train safety

Impairment

of a train conductor or rail traffic controller, who should not attempt to do their job while they are intoxicated, under the influence of drugs, or overly tired

Objects on the train tracks

, including people, motor vehicles, or debris

Dangerous weather conditions 
The U.S. Department of Transportation found that, in one five-year span, human error and train track defects caused the majority of train accidents. If you have been injured in a train accident, it is in your interest to find out who was at fault. With help from a lawyer at our firm, you can identify liable parties and hold them accountable for your losses.
Common Injuries from Train Accidents 
According to NHTSA, hundreds of people suffer injuries in train accidents each year. Some of the injuries we see in Baltimore-area train accidents include:
Head and brain injuries
Whiplash
Broken bones and crushed limbs
Internal organ damage
Amputations
Burns
Disfigurement
Spinal cord injuries
Severe cuts and bruises
Wrongful death
If you've been involved in a train accident, you should seek medical attention immediately. Not only will this improve your prognosis as you treat your injuries, but it can establish the causal relationship between the underlying accident and your injuries. A detailed diagnosis can also give you and your lawyer a better understanding of the long-term losses you may suffer in the future due to the accident. 
How Our Experienced Lawyers Can Help Your Case
If you're looking for an Amtrak lawyer or train crash lawyer to handle your case, turn to the team at Cohen & Dwin, P.A. A train crash lawyer from our firm can:
Identify those responsible for the train accident

that injured you

Deal with insurance companies

and all other parties involved in your case

Determine how much money you are entitled to

for your injuries or the loss of your loved one

Complete all case-related paperwork
Negotiate for a settlement

with liable parties and insurers

Take your case to court

, if the liable parties won't agree to a fair settlement
Our firm often secures money for our clients through settlements. If we can get you the financial recovery you deserve without having to go to court, we will. However, our attorneys won't hesitate to take your case to court if doing so is our best chance to secure you the full and fair compensation you deserve.
Remember, lawsuits stemming from train accidents in Maryland are subject to a time limit established by a statute of limitations, and exceptions are rare. Generally, you have just three years from the date of a train accident to file your lawsuit. While two years might sound like a lot of time, preparing a case for trial and negotiating with insurers takes time. Moreover, liable parties sometimes slow down negotiations to draw out the process and run out the clock on the statute of limitations. Your ability to negotiate a strong settlement from the liable party is based on your ability to take them to court. You lose this ability when the statute of limitations runs out on your claim.
If you are injured in a train accident involving a state-operated rail service, you must notify the Treasurer of your claim within one year of the incident. Failure to do so could result in your case being dismissed.
Make sure you get legal help quickly, as the clock on your filing deadline is already ticking.
Contact Our Maryland Train Accident Lawyers Today
 The attorneys at Cohen & Dwin, P.A., have been fighting for injury victims in Maryland since 1977. If you've been injured in a train accident in Baltimore, we want to hear from you. Depending on what happened, you could be owed money for your medical bills, lost income, pain, suffering, and more. Let us help you pursue it.
Contact us today for a free consultation with a train accident attorney in Baltimore.