Maryland Car Accident Lawyer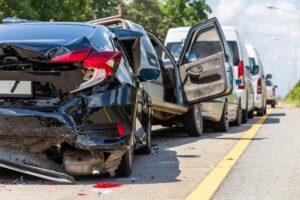 Did you or someone close to you get hurt in a Maryland car accident? Are you struggling to cover your medical expenses and pay the bills at home? If so, you're not alone. With heavy traffic, ever-present construction, and a large volume of out-of-state travelers year-round, accidents are incredibly common on Maryland's roads. Many people suffer debilitating injuries and financial losses after local car wrecks and don't know where to turn for help.
At the law firm of Cohen & Dwin, P.A., our knowledgeable injury lawyers understand the stress and uncertainty that come with a car accident. Our firm is dedicated to standing up for your rights and fighting for the compensation you deserve. We'll handle the legal details so you can focus on your recovery. 
Contact us today for your free initial case review with an experienced Maryland car accident lawyer.
Do I Need a Lawyer After a Maryland Car Accident?
Depending on the complexity of your car accident case, it is a good idea to have an attorney experienced in handling crash claims. Our Maryland car accident attorneys offer free consultations, so there's no risk in getting your questions answered.
At Cohen & Dwin, P.A., we can help with a variety of circumstances when you might need a car accident lawyer, including if:
You suffered serious physical or emotional injuries.

Your injuries are so severe that you cannot return to work.

It's unclear who was at fault for the car accident.

Multiple vehicles or other parties were in the accident.

The accident occurred in a construction, school, or work zone.

The accident involved an uninsured or underinsured motorist.

The other driver fled the scene of the car accident.

You have trouble gathering or preserving evidence for your case.

The insurance company tries to minimize or deny your claim.

An insurance company representative asks you for a statement.

You aren't comfortable negotiating with the insurance company.
How Much Is My Car Accident Case Worth?
The value of your Maryland car accident case can vary considerably depending on several factors, such as the severity of your injuries, how much time you miss at work, who was responsible for the wreck, and their ability to compensate you for your losses. 
With a successful claim, you could recover money as compensation for losses such as: 
The costs of any medical treatment

you need due to the accident, such as hospital stays, surgeries, physical therapy, and prescription medications

Lost wages

from time you missed at work as a result of the accident

Loss of future earnings

due to long-term or permanent crash injuries

Subjective losses

, such as pain, suffering, and diminished quality of life

Incidental costs

, such as costs of traveling to medical appointments

The costs of repairing crash-related vehicle damage

or replacing a totaled vehicle
Common Types of Car Accidents in Maryland
Some of the most common types of car accidents cases our injury lawyers handle include:
Rear-end collisions
Head-on collisions
T-bone accidents
Sideswipe accidents
Single-vehicle accidents
Multi-vehicle accidents
Rollover accidents
Hit-and-run accidents
Rideshare accidents
Top Causes of Car Accidents in Maryland
No two car accidents are alike, but many share a similar set of causal factors. Common causes of wrecks in Maryland include:
Distracted driving 

– When drivers fail to give the road their full attention, they might miss important visual cues or react too slowly to changing traffic conditions.

Driving under the influence 

– An intoxicated driver is likelier to cause a wreck due to impaired reaction time, judgment, critical thinking, and coordination.

Drowsy driving 

– When a driver is fatigued, it is hard for them to stay alert and react appropriately to changing road conditions.

Speeding

– Driving too fast leaves little room for error, and speeding drivers are more likely to crash when they fail to react quickly enough to avoid hazards.

Reckless driving

 – Driving with disregard for safety can cause accidents when drivers engage in risky behaviors like lane-weaving, running red lights, or making illegal turns.

Driving errors

 – Common driving errors, such as going the wrong way on a one-way road, put other road users at risk.

Vehicle defects 

– A vehicle defect, such as a faulty brake system or airbag, can easily contribute to an accident, whether from a manufacturing error or poor owner maintenance.

Poor road conditions 

– Poor road conditions, such as large potholes or missing signs, make it harder for drivers to maintain control, increasing the crash risk.
Types of Injuries Caused by Car Accidents
The force of impact in a car accident can cause injuries ranging from relatively minor to potentially life-threatening. Some common types of injuries that occur in Maryland car accidents include:
Head and neck injuries
Traumatic brain injuries (TBIs)
Back and shoulder injuries
Spinal cord injuries (SCIs)
Partial or total paralysis
Seatbelt and airbag injuries
Abdominal and internal injuries
Dislocated or broken bones
Amputation and loss of limb
Soft tissue strains, sprains, and tears
Road rash and other burn injuries
Post-traumatic stress disorder (PTSD)
Other mental and emotional injuries
Statute of Limitations on Car Crashes in Maryland
You have three years from the date of a car accident to file a personal injury lawsuit under Maryland law. There are some narrow exceptions to this rule, and in some cases, the time limit might be shorter or longer. It's best to consult with a personal injury lawyer who can help you file your claim by the appropriate deadline.
How Our Lawyers Help People Hurt in Maryland Collisions
The Maryland car accident lawyers at Cohen & Dwin, P.A., can help you by:
Explaining your rights and identifying sources of compensation

for your losses

Investigating the car accident

to gather helpful evidence

Communicating with employers, insurers, and other parties

on your behalf

Collecting medical records, crash reports, and other evidence

for your case

Interviewing eyewitnesses and medical experts

for compelling case testimony

Filing claim paperwork and negotiating aggressively

to maximize your settlement

Taking your case to court and representing you at trial

, if negotiations stall out
Contact a Car Accident Lawyer in Maryland Today
At Cohen & Dwin, P.A., our Maryland car crash lawyers have the experience and resources to fight for the compensation you deserve. Contact us now for your free initial consultation session, and let us guide you through the legal process.