Truck Accident Lawyer in Maryland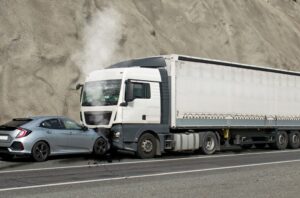 Were you hurt in a truck accident in Maryland? If someone else was to blame, they could owe you money for the losses you suffered in the crash. However, pursuing legal action can be challenging, especially as you struggle to recover from your injuries. That's where the law firm of Cohen & Dwin, P.A., comes in. We can aggressively pursue your injury claim so you can focus on your rest and recovery.
Our Maryland truck accident attorneys have over 100 years of combined legal experience we are ready to put to work for you. Contact us online now for a free consultation.
How Common Are Truck Accidents in Maryland?
According to the Federal Motor Carrier Safety Administration, 3,348 large truck crashes occurred in Maryland in a single recent year, causing 1,443 injuries and 43 fatalities.
The Insurance Institute for Highway Safety found that 68 percent of deaths in large-truck accidents in one recent year were the occupants of passenger vehicles. Another 16 percent were other road users, such as pedestrians and cyclists. Only 15 percent of fatalities were large-truck occupants.
Most large-truck crash deaths occur between 12 noon and 3 p.m. Wednesday is the day of the week with the highest number of deaths.
Common Causes and Types of Truck Accidents in Maryland
Here are some of the most common types of truck accidents in Maryland:
Jackknife accidents

 – A jackknife accident occurs when the trailer and cab of a tractor-trailer swing toward each other. This type of crash often happens with sudden maneuvering or braking.

Underride and override accidents

 – An underride accident involves a smaller vehicle crashing into the back or side of a truck's trailer and sliding underneath. An override accident occurs when the cab of a truck runs over the back of a car.

T-bone crashes

 – T-bone or broadside accidents involve the front of one vehicle colliding with the side of another. They are common at intersections, particularly when drivers run red lights and stop signs.

Head-on collisions

 – A head-on accident is the deadliest type of crash and involves the front ends of two vehicles colliding directly. A distracted or inattentive trucker might drift into oncoming traffic or enter a one-lane road in the wrong direction.

Rollover accidents

 – A truck has a high center of gravity, making it prone to tipping or overturning if its driver takes a turn too fast or swerves.

Rear-end collisions

 – Rear-end accidents commonly occur when a truck driver tailgates another vehicle. If the driver ahead stops or slows down suddenly, the trucker doesn't have enough time or distance to brake and avoid a collision.
Truck drivers and trucking companies must take the necessary precautions to keep other people safe and avoid crashes. When they fail to do so, they put everyone else on the road at risk of crashes caused by careless behaviors such as:
Distracted driving
Failure to check blind spots
Tailgating
Driving under the influence
Inadequate vehicle maintenance
Trucking company hiring an inexperienced or unlicensed truck driver
Fatigued driving
Overloading cargo onto the trailer
Speeding
Common Injuries Caused by Truck Wrecks in Maryland
Commercial trucks are massive, and the injuries they cause can be devastating, changing your life forever. An injury like the following could compromise your health and ability to earn a living:
Whiplash
Loss of limb
Spinal cord injury
Internal bleeding
Paralysis
Traumatic brain injury
Broken bones
Lacerations
Burn injuries
Who Is Liable for a Maryland Truck Accident?
While the truck driver is often the party immediately at fault for an accident, they are not the only one who might be liable, or legally responsible, for the consequences. Multiple parties can contribute to a truck accident in Maryland, including:
Truck driver
Trucking company
Vehicle repair company
Maintenance company
Tractor or trailer owner
Cargo loader
Another driver
Our Maryland truck accident lawyers can launch a thorough investigation of the collision to determine who could owe you compensation. Our goal is to seek maximum compensation for you from all responsible parties and their insurers.
Damages Available in a Maryland Truck Accident Lawsuit
If someone else is liable for the accident that injured you, they could owe you compensation in the form of damages for a range of losses, including:
Hospitalization, rehab, and other medical expenses
Loss of enjoyment of life
Mental anguish
Pain and suffering
Scarring and disfigurement
Lost wages
Loss of earning capacity
Property damage
Hours of Service and Other Regulations for Truck Drivers in Maryland
Federal and state trucking laws impose specific regulations on truck drivers and trucking companies operating in Maryland. These regulations include the following:
Hours of service regulations

 – These rules prohibit truck drivers from driving more than 11 hours in a 14-hour period that resets after spending 10 consecutive hours off duty. 

Alcohol regulation

 – Truckers are not allowed to consume or be under the influence of alcohol within four hours before operating a commercial motor vehicle or going on duty. They also can't be under the influence, use alcohol, or have any measured alcohol concentration while on duty.

Insurance regulation

 – Every motor carrier must carry liability insurance for each commercial truck it operates. The mandatory minimum coverage depends on the truck's weight and the type of cargo it transports. For semi-trucks carrying non-hazardous materials, liability insurance minimums start at $750,000 and often exceed $1 million.
What to Do After a Semi-Truck Accident
There are certain things you can do after a truck accident to protect yourself and your rights to compensation. After you have sought medical attention, consult a Maryland truck accident law firm. At Cohen & Dwin, P.A., we can take charge of your case so you can focus on recovering from your injuries. We will stand up to the insurance adjusters and take the matter to court if necessary.
Maintain adequate records, which serve as vital evidence for your claim. You should keep copies of your medical bills, hospital records, physical therapy reports, and other documentation. Keeping a journal is also helpful in documenting your injuries, symptoms, and how they affect your daily routine.
Beware of social media. While you might think posting about the accident is a harmless way to share details about your life, it can negatively affect the outcome of your truck accident claim. Insurance carriers and defense attorneys can use what you say online against you. It's best to avoid social media while your claim is pending.
Talk to a Truck Accident Lawyer in Maryland Now
Cohen & Dwin, P.A., is ready to protect your rights and work hard to recover the compensation you deserve. If you were hurt in a truck accident someone else caused, we want to hear from you today. Contact us for a free consultation with a truck accident lawyer in Maryland.