Surgical Malpractice Lawyers in Baltimore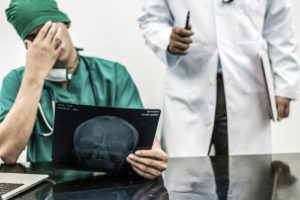 Each year, countless patients who undergo a surgical procedure are harmed by a mistake during surgery. Surgical errors often occur due to miscommunication or surgeon fatigue. If a loved one suffered severe or fatal injuries after serious surgical complications, our Baltimore surgical malpractice lawyers can help. When you contact Cohen & Dwin to tell us your story, we will explain your rights and begin a thorough investigation to uncover the preventable mistakes.
When Does It Become Surgical Malpractice?
Every surgery involves risk; that is why patients are required to sign a handful of forms saying they know and understand these risks. But "informed consent" has nothing to do with the standard of care. Suppose an action by a doctor or other medical professional created an unusual amount of risk, and these actions failed to provide the degree of care and skill required by law. In that case, you may have a medical malpractice case.
Examples of surgical mistakes include:
Performing the wrong procedure
Surgery on the wrong site
Damage to a(n) organ, nerve, or blood vessel
Unnecessary surgery
Infection due to non-sterile conditions
Mismanagement during the postoperative period
A surgical malpractice attorney in Baltimore can help you with a case evaluation.
Proving Fault in a Surgical Malpractice Case
Surgical malpractice lawsuits are one of the most difficult to investigate and prove. Because there is a large gap in medical knowledge between the patient and medical staff, too many families never follow their inclination that injuries could have been avoided with proper care. The aim of our Baltimore medical malpractice attorneys is to not only help our clients get back on their feet with monetary compensation but also to hold trusted medical professionals responsible for significant, life-threatening errors on the surgical table.
Our Surgical Malpractice Team in Baltimore
Our Baltimore medical malpractice attorneys have more than 60 years of combined experience working with medical experts to handle medical malpractice claims.
We have held numerous healthcare professionals liable for their negligent actions:
Surgeons
Hospitals
Anesthesiologists
Nurses
Other medical personnel
Our Baltimore personal injury lawyers have worked with a wide range of surgical malpractice victims including:
Plastic surgery patients
Heart surgery patients
Contact Our Surgical Error Attorneys Today
Our extensive knowledge of Maryland malpractice law and our ability to uncover and present the facts can help you win your case. With Baltimore medical malpractice attorneys Barry Cohen (retired) or Harold Dwin leading the investigation and legal strategy, you have a fair shot at getting the compensation you need to ensure your family is taken care of during this difficult time.
If your family has been affected by a surgical mistake and you need answers, the Baltimore personal injury lawyers at the law firm of Cohen & Dwin, P.A. are ready to be your legal guide to the truth. To learn more about your rights after surgical malpractice, please contact us today. We offer free first visits and valuable medical negligence advice.