Baltimore Brain Injury Attorney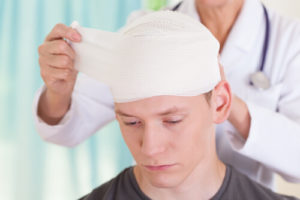 Over the last few years, there has been a lot of public attention on the issue of brain injuries and concussions, mostly related to tragic incidents involving football players and other athletes. This newfound concern is a welcome development – traumatic brain injuries represent a clear and present danger to those suffering from them.
However, it's important to understand that these catastrophic injuries are not restricted to professional athletes. At Cohen & Dwin, P.A., our experienced brain injury lawyers have helped countless Baltimore residents who have suffered traumatic brain injuries as the result of negligence or misconduct.
If you need a personal injury lawyer in Baltimore with ample experience in brain injury cases, please call Cohen & Dwin, P.A., today at 410-653-6000, for a free consultation.
What is a Traumatic Brain Injury?
The phrase "traumatic brain injury" is pretty vague, and it covers a wide range of injuries and a number of grades of severity. In general, a traumatic brain injury is any brain dysfunction that is caused by an external injury or trauma. This includes a blunt force blow to the head, a blow that actually pierces the skull, or, simply, any other form of a violent collision.
As such, practically any kind of accident can cause a TBI. We see many brain injury victims who suffered head trauma in an auto accident, for example, but they can also happen on a job site or after a slip and fall.
Traumatic brain injuries range in severity from mild to severe, and each TBI is unique. This means that no two brain injuries cause exactly the same symptoms. If you've recently suffered a blow to the head and you're experiencing almarming symptoms, contact a doctor.
Common symptoms of a traumatic brain injury are:
Chronic headaches
Nausea
Personality changes
Lack of balance or fine motor skills
Difficulty speaking
You should see a doctor immediately to get your injury diagnosed and begin treatment. And then you should call our experienced traumatic brain injury lawyers to discuss your options.
The Lifetime Costs Of A TBI
Studies have found that the lifetime cost of a single traumatic brain injury can easily exceed $1 million. This number might sound staggering, but you have to consider all that goes into treating a TBI.
Your medical expenses might include:
Multiple surgeries
Pain relievers and other medications
Physical therapy
Psychological therapy
Contact a Traumatic Brain Injury Attorney in Baltimore Today for Help!
And many TBI patients struggle to work and earn a living after their injuries. These issues are not limited to those working physically demanding jobs – even white-collar professionals can struggle to work after experiencing a TBI, as difficulty concentrating is one of the symptoms of such an injury.
In these circumstances, it's vital that you choose the right brain injury lawyer to help you. Our experienced attorneys know how important compensation is for someone in your position. It's not greedy or litigious to pursue legal action against the individual or individuals whose mistakes caused your injury – it is an opportunity to hold the responsible person accountable.
If you've suffered a traumatic brain injury in Baltimore as the result of someone else's negligence, please call Cohen & Dwin, P.A., today at 410-653-6000, for a free consultation.