Baltimore Bicycle Accident Attorney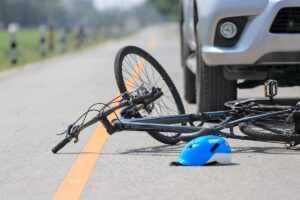 If you were seriously injured in a bicycle accident in Baltimore that was due to someone else's negligence, you may be entitled to financial compensation for your losses. The Baltimore bicycle accident attorneys of Cohen & Dwin, P.A. are ready to fight for your rights, assist you in obtaining justice, and help you get your life back on track.
Since 1977, the aggressive lawyers of Cohen & Dwin, P.A. have recovered millions of dollars on behalf of accident victims, including people hurt while riding a bicycle. Our team has the knowledge, skills, and resources needed to take on those responsible for your bicycle accident, whether it is an individual, their insurance company, or any other negligent party. 
If you have been hit by a motorist while riding your bike, the driver's insurance company will likely attempt to shift the blame to you. They may also make a lowball settlement offer. Don't assume that the insurer's assessment of your Baltimore bicycle accident is fair. 
The highly skilled and experienced Baltimore bicycle accident attorneys at Cohen & Dwin, P.A. are prepared to negotiate for a full and fair settlement that covers all of your losses. Call us today to schedule a free and confidential consultation. 
Causes of Bike Accidents in Baltimore
Collisions between motor vehicles and bicycles can occur due to a wide range of reasons. However, many of them are caused by negligent motorists. Examples of common causes of bicycle accidents in Baltimore include:
Distracted Driving: Distracted driving is one of the top causes of motor vehicle accidents, including those involving bicycles. When motorists are focusing on texting, eating, talking on the phone, or fiddling with their radio instead of their surroundings, they are much more likely to cause crashes.
Speeding: Speeding increases a driver's stopping distance and limits the amount of time they have to make decisions. Though high-speed accidents are more likely to result in serious or life-threatening injuries, accidents at low speeds can be extremely dangerous for cyclists as well.
Aggressive driving: Road rage and aggressive driving are dangers for cyclists. When an aggressive driver becomes impatient near a bicycle that is traveling slower than they are, a devastating accident can occur.
Left Turns: Drivers sometimes fail to look for bicycles before making a left turn. If a cyclist is riding in close proximity, the car could broadside or sideswipe them when turning left. This type of collision can be very serious, resulting in catastrophic injury or even death.
Following too closely: Tailgating is very dangerous and should be avoided. When a motorist does not allow enough space when traveling behind a cyclist, it can have dire consequences if the cyclist has to stop suddenly.
Rear-end accidents: When a cyclist stops at a red light or stop sign, they have no control over the behavior of the cars behind them, placing them at the risk of getting struck by a vehicle in a rear-end accident. Cyclists in motion may also be struck from behind by careless motorists who fail to share the road.
Dooring: Dooring occurs when a cyclist runs into a car door that has been opened into their path. These accidents are especially common on busy streets where heavier traffic forces cyclists to ride closer to parked cars. It is the driver's responsibility to look and see if a cyclist is coming before they exit their vehicle.
Types of Injuries from Bicycle Accidents
Bicycle accident injuries can be very serious, largely due to the fact that cyclists are exposed to elements like metal and asphalt. A bicycle accident could lead to serious or even fatal injuries, ranging from cuts and scrapes to traumatic brain injuries and paralysis. 
Common bicycle accident injuries include:
Broken bones
Facial injuries
Cuts, lacerations, and bruises
Ruptured discs
Amputation
Nerve damage
Soft tissue injuries
Joint dislocation
Road rash
Bike Accident Statistics in Baltimore
According to the National Highway Traffic Safety Administration (NHTSA), cyclist deaths account for about 2.1% of all motor vehicle traffic fatalities. In one recent year, there were 37,133 traffic fatalities, 783 of them bicyclists.
In Maryland, an average of around 816 bicycle accidents are reported each year, according to the Maryland Highway Safety Office. Approximately 80% of these crashes result in injury or death. In a single recent year, there were 864 total crashes involving bicycles in Maryland. Of these, 725 crashes resulted in injuries, and 11 resulted in fatalities. 
Bike Laws in Baltimore 
In Baltimore and throughout Maryland, cyclists have the same rights of way and general duties to obey traffic laws as motorists. As a cyclist in Baltimore, it's important that you fully understand your legal rights and obligations. 
Many accidents involve either the motorist or the cyclist violating these rules of the road. Keep the following laws and rules in mind when riding your bicycle in Baltimore.
Some Maryland laws in place to help protect cyclists include:
Bicycles have to be ridden as close to the right side of the road as possible.

If there's a bike lane, cyclists should stay in it unless they are turning left, avoiding hazards, or if the lane has a right turn or merge lane.

Drivers must yield the right-of-way to cyclists in bike lanes and shoulders when vehicles are entering these areas.

Bikes also have the right-of-way when vehicles are making a turn.

Cyclists may ride on sidewalks and across crosswalks if it is legal to ride on the sidewalk in the first place.

Vehicles must keep at least three feet of distance between themselves and the bicycle.

It is illegal for a cyclist to ride against traffic.
The following are prohibited:
Clinging to motor vehicles while biking.
Carrying more than the number of persons for which the bicycle is designed.
Riding when your hands are full. You must keep your hands on the handlebars.
Passengers, unless your bike is equipped for it with proper seats.
Traveling on a road with a speed limit of 50 miles per hour or more.
Riding your bike hitched up to a car.
Wearing headsets or earplugs on both ears while riding.
The following equipment is required:
Brakes capable of stopping a bicycle from a speed of 10 miles per hour within 15 feet on dry, level, and clean pavement. 

When riding in low visibility conditions, a white beam headlight visible from 500 feet is required, as well as a red rear reflector visible from 600 feet if it's nighttime.

A bicycle may be equipped with a bell or other audible device, but not a siren or whistle. 

Any rider under the age of 16 must wear a helmet.
Compensation for Injuries in a Bike Accident
Sustaining injuries from a bicycle accident can affect you physically, mentally, and financially. You may have a long physical and emotional recovery ahead, and you may be unable to work following your accident. 
It is crucial that you hire a Baltimore bicycle accident attorney to handle all the legal heavy lifting so that you can focus on your recovery. Knowing that a skilled lawyer is fighting for the compensation you deserve will give you peace of mind during this difficult time.
Filing a personal injury claim against the party who caused your injuries can help you recover the compensation you need to cover a variety of damages, including:
Medical bills (past, present, and future)

– Covers costs for hospitalization, physical therapy, rehabilitation, prescription drugs, surgeries, and more.

Lost wages

– This includes the income you would have earned had your injury not forced you to miss work. 

Lost earning capacity

– This is the amount of money you would have earned in the future had you not been injured in a bicycle accident.

Pain and suffering – Pain and suffering are noneconomic damages because they can't be easily quantified. However, an experienced personal injury attorney can help you calculate and document this type of compensation.
Loss of consortium

– This compensates a person for the loss of their partner's companionship and services.

Punitive damages

– These are awarded in rare cases where the at-fault party was found to be especially reckless.
As a victim of a bicycle accident, it's important to remember that you have rights. At Cohen & Dwin, P.A., our experienced bicycle accident lawyers will ensure that your rights are protected. While we can't undo the pain you have already suffered, we can fight to seek the compensation you need to heal following your accident. 
Contact a Bicycle Accident Attorney in Baltimore 
If you or a loved one were injured in Baltimore, speak with one of our skilled and compassionate bicycle accident lawyers as soon as possible. The Baltimore bicycle accident attorneys at Cohen & Dwin, P.A. are prepared to fight for the maximum compensation available to you. We can negotiate and seek a settlement that covers all of your past, present, and future expenses relating to your accident. If the insurance company makes a settlement offer that is less than what you deserve, we won't hesitate to take your case to court.
Call us today to schedule a free, no-obligation consultation so we can discuss your legal options.