Workers' Compensation Attorney in Pikesville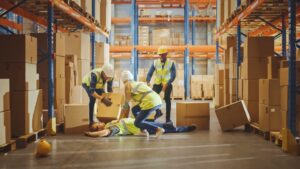 If you were injured on the job in Pikesville, you are likely entitled to collect workers' compensation benefits through your employer's workers' compensation policy. With a few exceptions, any business employing at least one employee must carry workers' compensation insurance under Maryland state law. 
Workers' comp is a no-fault system. As long as your injury was sustained in the workplace or while performing work-related duties, you can file a claim for workers' comp benefits regardless of who was responsible for your injury. 
Unfortunately, just because you are entitled to benefits doesn't mean getting them is easy. You stand to benefit from the experienced legal guidance of an attorney who understands the system. Cohen & Dwin, P.A., can help you navigate the claims process and pursue the financial relief you deserve. 
Contact us today for a free, no-risk consultation with a Pikesville workers' compensation lawyer. 
Why You Need a Pikesville Workers' Compensation Lawyer
The workers' comp system was designed to protect workers who get hurt or sick at work. Unfortunately, the reality is that employers and their insurance providers have a financial interest in denying claims, as settlements eat into insurers' profits and cause employers' premiums to go up. That puts workers at a disadvantage. 
If you're unfamiliar with the system, you could make an avoidable error that causes your claim to be denied or undervalued. That's why it's crucial to hire an attorney to handle your case from the outset.
The Pikesville workers' comp lawyers at Cohen & Dwin, P.A., can help you by: 
Addressing any concerns you have

and explaining your rights 

Compiling all of the documentation needed

to support your claim

Ensuring that your paperwork is filled out correctly

and filed on time

Representing you at any hearings
Standing up to your employer and their insurer

as we advocate for your needs

Negotiating a settlement

that gives you the total compensation you are entitled to
If you suffered an on-the-job injury and want to learn more about your rights, you should reach out to us today for a free consultation with one of our Pikesville workers' comp attorneys. 
What Workers' Comp Benefits You May Be Eligible for in Pikesville, MD
If you suffered an on-the-job injury or illness, you could be entitled to the following benefits:
Medical treatment coverage

, including surgery, rehabilitative care, doctor's visits, and prescription medications

A portion of your lost income

, up to 2/3 of your average weekly wage or the state maximum

Vocational therapy

if you are unable to perform the same job you previously held because of your injury or illness

Disability-related compensation

if you become permanently disabled because of an injury or illness 

Death benefits

, which can be awarded to the surviving family of a worker who passes away as a result of a workplace injury or illness
A knowledgeable Pikesville workers' compensation attorney can calculate the total value of your claim and the full range of benefits you are entitled to.
Common Injuries in Pikesville Workplace Accidents 
Some of the most common workplace accidents and injuries include:
Slip and falls
Transportation and traffic accidents 
Burns and electrocution
Repetitive motion and overexertion injuries

, including sprains and strains

Broken bones
Being caught in or struck by machinery
Cuts, scrapes, and lacerations
Traumatic brain injuries
Spinal cord injuries
No matter how severe your injuries are or who caused them, you have a legal right to pursue workers' comp benefits in Maryland. If you have questions about the process or aren't sure whether you qualify, contact a Pikesville workers' comp lawyer to discuss your situation. 
Maryland Deadlines for Workers' Comp Cases
If you suffer a work-related injury or illness, it is critical to notify your employer as soon as possible. In Maryland, you have up to 10 days after sustaining a workplace injury to notify your employer of the injury. Other notification deadlines include: 
Up to 30 days after a death caused by a workplace accident
Up to one year after discovering a work-related illness
Up to one year after a death caused by a work-related illness 
Once you have reported your injury or illness and your employer has filed an incident report with the Maryland Workers' Compensation Commission, you must file your benefits claim (using this form) within two years. 
Steps to Take After a Workplace Injury in Pikesville
If you suffered a workplace injury, you should take the following steps to protect your rights:
Seek prompt medical attention

and make sure your treating physician knows your injury is work-related. It is crucial to establish a record of your injury right away, as it provides valuable evidence supporting your workers' comp claim.

Collect evidence at the scene of the accident

, if possible. Take photographs of your injuries, the hazard that caused your accident, and other relevant details. Having a visual record of the accident scene can strongly benefit your claim.

Alert your employer and supervisor

right away. You only have 10 days to report a work-related accident resulting in injury.

Follow up with your employer to ensure that they have filed their accident report

, known as the Employer's First Report of Injury or Illness, and submitted it to the Commission. 

Speak with an attorney to make sure that all of your forms are correctly filled out and that your injuries are accurately documented.

If the insurance provider rejects your initial claim, our attorneys can help you pursue an appeal. 
Contact Our Skilled Workers' Comp Attorneys at Cohen & Dwin Today
Did you suffer a workplace injury in Pikesville? If so, contact Cohen & Dwin, P.A., for a free case evaluation and to get started on your workers' comp claim today. 
Our attorneys work on a contingency fee basis, meaning we will collect a legal fee only if we obtain benefits for you. If you don't receive benefits, we don't get paid. Reach out today to speak with one of our attorneys.