Baltimore Semi-Truck Head-On Collision Attorney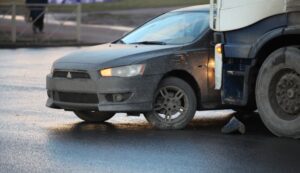 Any head-on collision between motor vehicles can be severe. But when a 3,000-pound passenger vehicle goes up against an 80,000-pound semi-truck, the results can be truly catastrophic. Victims are often left with debilitating and life-altering injuries, which, in turn, lead to expensive medical bills and lost wages – not to mention physical pain and emotional trauma.
At the law firm of Cohen & Dwin, P.A., our Baltimore head-on truck accident lawyers understand how devastating a collision with a tractor-trailer can be to you and your family. Coping with significant injuries is hard enough without trying to get the money you need from the trucking company and its insurer. But with us in your corner, they will know better than to try to take advantage of you while you're in a precarious situation.
Our truck accident attorneys have more than a century of combined legal experience helping people in your position get the money they need for injuries that were someone else's fault. We know how to tackle complex cases and are ready to fight to protect your rights. Contact Cohen & Dwin, P.A., now to get started with a free case evaluation.
How Do Head-On Semi-Truck Collisions Happen?
A head-on collision, also known as a frontal crash, occurs when two vehicles traveling in opposite directions strike one another at a direct angle. Because there is nothing to mitigate the force of the collision, these accidents tend to cause massive damage and life-altering injuries.
Head-on collisions are usually the result of careless, reckless, or otherwise negligent driving. The Federal Motor Carrier Safety Administration (FMCSA) found that at least 87 percent of large truck collisions are caused by driver error.
Some of the most common causes of head-on collisions are:
Drunk driving
Distracted driving
Fatigued driving
Failure to yield the right-of-way
Speeding
Unsafe passing
 Inclement weather conditions and mechanical defects can also contribute to head-on collisions.
Serious Injuries from a Head-On Wreck with a Tractor-Trailer
Head-on collisions are among the most potentially devastating forms of traffic accidents. Being involved in a head-on collision with a tractor-trailer, which can weigh as much as 80,000 pounds, can be catastrophic. The Insurance Institute for Highway Safety (IIHS) estimates that front-to-front impacts account for 30 percent of passenger-vehicle occupants killed in collisions with large trucks, making head-on collisions the most deadly type of crash.
Significant injuries common in head-on wrecks with tractor-trailer trucks include:
Traumatic brain injuries
Paralysis
Other neck and spinal injuries
Facial injuries
Dental injuries
Amputation
Broken bones
Organ damage
Internal bleeding
Burns
Soft tissue damage
Lacerations
Contusions
Often, survivors of head-on truck collisions also experience mental health conditions such as anxiety, depression, and sleep disturbances. A head-on crash may also lead to post-traumatic stress disorder (PTSD).
Who Can Be Held Liable for a Head-On Truck Accident in Baltimore?
While the truck driver may be most directly to blame, other entities may also bear some of the responsibility. The number of potentially liable parties makes truck accidents more complex than other traffic collisions. Depending on the circumstances of the crash, one or more of the following parties may be liable for your injuries:
The truck driver
The trucking company or owner of the vehicle
The company that loaded the cargo
The manufacturer of a defective component
Getting to the bottom of liability for a head-on collision usually requires a thorough investigation into the cause of the crash. Can you trust the trucking company or its insurer to conduct a fair and unbiased examination? Trucking companies often have teams of insurers and attorneys on their side working to limit liability and keep accident payouts as low as possible.
An experienced Baltimore head-on truck accident attorney can immediately begin investigating the cause of the crash and securing valuable evidence, like the truck's black box data, before it can be lost or destroyed. This evidence can help establish liability and strengthen your claim for compensation. 
Potential Compensation for Victims of Head-On Truck Wrecks
Trucking companies are businesses. They are constantly looking out for their bottom line. Head-on truck accidents can cause severe injuries that leave these companies liable for millions of dollars, and paying out these large sums cuts into their profit margins. Moreover, insurers and their attorneys are also looking to protect their interests. They are generally not interested in helping you recover from your injuries. Instead, they are interested in saving money by offering you the lowest compensation possible.
An insurer might attempt to entice you with a speedy settlement, hoping you will be desperate enough to accept before you realize what your claim is really worth. Unfortunately, once you say yes to the settlement, there's no going back for more later. In the long run, you may have to pay for expensive medical care and rehabilitation out of your own pocket. If you are hurt seriously enough that you cannot return to work, you may soon find yourself in a financial pit. 
A skilled head-on truck accident attorney from our law firm can advocate for your needs, prevent you from undervaluing your claim, and aggressively negotiate on your behalf. At Cohen & Dwin, P.A., we will review the circumstances of your case and calculate the value of your claim.
Depending on what happened, you may be able to pursue compensation for the following: 
Medical expenses
Rehabilitation costs
Lost wages
Loss of future earning capacity
Emotional distress
Reduced quality of life
Pain and suffering
Property damage
Recovering the money you need from a trucking company can be time-consuming and complicated. The legal team at Cohen & Dwin, P.A., can help you pursue the compensation you need to move forward with your life. 
Contact Our Experienced Truck Accident Lawyers Today
Were you injured in a head-on truck accident in Baltimore? Protect your rights and speak with an experienced attorney with Cohen & Dwin, P.A. We are committed to helping people in your position recover maximum compensation for their injuries. 
Learn more about your legal options and set up a free case evaluation with a knowledgeable head-on collision lawyer in Baltimore when you contact us today.