Construction Site Accident Lawyer in Baltimore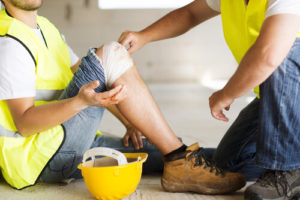 As a major regional hub, the greater Baltimore area sees a perpetual state of construction. This work is performed by individuals in dangerous occupations that sometimes leave them severely injured and forced to seek Workers' Compensation.
If you or a loved one were injured in a construction site accident or suffered another type of on-the-job injury, the Baltimore Workers' Compensation attorneys at Cohen & Dwin are here to help you and your family seek the benefits you need. Please call us at 800-692-2500 for your consultation with one of our knowledgeable lawyers.
Construction Site Accident Injuries in Baltimore
Job-related construction accidents that result in injuries occur at a pace of about 150,000 per year, according to figures from the Bureau of Labor Statistics. Many of these injuries require time away from work; others can necessitate a change in vocations or result in disability.
Workplace injuries that are frequently sustained in construction accidents and are the focus of Workers' Compensation claims include:
Brain Injuries/Traumatic Brain Injuries
Spinal cord injuries/paralysis
Severe burn injuries
Amputation/loss-of-limb injuries
Back injuries/ruptured discs
Fractured bones
Hearing loss
Repetitive stress conditions such as carpal tunnel syndrome
For additional information about job-related injuries and Workers' Compensation, please see our Workers' Compensation page.
Construction Accidents and Workers' Comp Claims in Baltimore
It is important to note that there are strict requirements for Workers' Compensation, and not all injuries sustained on a construction site are eligible for benefits.
If you were hurt in a construction site accident or other workplace accident, it's important to discuss your case with a knowledgeable Workers' Compensation attorney as soon as possible. The lawyers at Cohen & Dwin are dedicated to helping injured workers and their families recover the benefits they need, and we can help you determine if you're eligible to file a Workers' Compensation claim.
If you or a family member was injured in a job-related accident in Baltimore, please contact Cohen & Dwin for your Workers' Compensation consultation.