Robbery Defense Attorney in Baltimore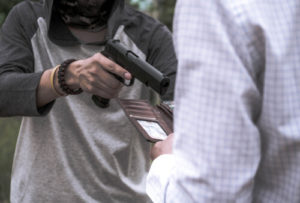 If you have been charged with robbery or theft in Baltimore, the experienced law firm of Cohen & Dwin, P.A. wants to talk with you about your defense strategy. Our Baltimore robbery attorneys help people who are accused of minor to serious crimes of stealing from others. When you contact Cohen & Dwin, our Baltimore criminal attorneys will examine the details of your case and get started on a creative defense strategy right away.
Definitions for Robbery and Theft Crimes
There are things you should know about the potential penalties for robbery/theft and your rights. For instance, robberies involving force or weapons can involve a much stiffer sentence and increase the likelihood of serving jail time. The average person has no idea what their rights encompass during an arrest and formal criminal charges, despite the reading of Miranda rights.
Getting a Criminal Defense Attorney to Handle Your Robbery Case in Baltimore
Keeping you informed of your rights
Responsibilities
Potential penalties
Alternative sentencing
Other details during the process.
Robbery Defense Experts in Baltimore
There are so many aspects of the robbery and theft laws that you may not be aware of, aspects that could help your defense. The Baltimore theft lawyers at Cohen & Dwin can answer all of your questions about criminal charges and provide highly effective action steps to help you fight serious repercussions. Our team of criminal attorneys in Baltimore has helped a wide variety of defendants fighting minor theft charges to serious home invasions involving physical injury or death. In some cases, felony robbery charges can be reduced to misdemeanor charges, or dropped entirely due to lack of evidence. Factors like the value of the stolen property, use of force, physical assault, and prior record all play a part in how a crime is prosecuted, and what penalties defendants face.
Our skilled attorneys handle all types of robbery and theft cases including:
Robbery with a deadly weapon
Burglary/home invasion
Breaking and entering
Bank robbery
Mugging Theft by force Shoplifting
Identity theft
ATM robbery
Carjacking
Our Baltimore theft lawyers can break down all the legal jargon to make sure you have a clear understanding of the charges against you as well as your rights as a defendant.
Contact Our Baltimore Theft & Robbery Attorneys Today
Trust your theft or robbery case to the Baltimore criminal attorneys that have helped so many clients preserve their freedom after a criminal charge. Baltimore criminal attorneys Barry Cohen (retired) and Harold Dwin have the knowledge to help support your Maryland armed robbery charge. To learn more about your rights and your options for defense from experienced robbery attorneys in Baltimore, please contact Cohen & Dwin today. We are happy to meet with you for free to discuss your situation.