Common Types of Workplace Injuries in Owings Mills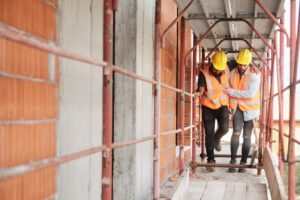 Workers' compensation is designed to help people who have been injured on the job by paying their medical bills and offsetting a portion of their lost wages while they're unable to work. 
If you suffered a workplace injury in Owings Mills or elsewhere in Maryland, these benefits are likely yours by right. Unfortunately, employers and insurance companies are often motivated to deny claims or pay out as little as possible to protect their profits. Many workers in Owings Mills are left with debilitating injuries and an inability to make ends meet.
Since 1977, the skilled and compassionate workers' compensation attorneys at Cohen & Dwin, P.A., have been fighting for justice on behalf of injured people. We believe every worker should get the workers' comp benefits they deserve. We're committed to helping out when a legitimate claim is denied. 
Contact us online today for a free consultation about your case with a member of our team.
Common Types of Workplace Injuries in Workers' Compensation Claims
Some of the most common workplace injuries that lead to workers' compensation claims include:
Amputations — 

Amputation involves the loss of a body part, such as a finger, toe, arm, or leg. Workers who operate any type of power tool, mechanical equipment, or machinery are at risk of amputation. While inadequate safeguards are often the cause of accidental amputations, some occur even when all safety precautions have been observed. An amputation often results in permanent disability.

Paralysis and Spinal Cord Injuries — 

Damage to any part of the spinal cord or the nerves attached to it can permanently impair function below the injury site. It may result in reduced mobility, pain, muscle atrophy, and paralysis. Spinal cord injuries are commonly the result of slip-and-fall accidents and repetitive heavy lifting. A spinal cord injury requires long-term physical therapy or rehabilitation and can result in long-term or permanent disability.

Traumatic Brain Injuries (TBI) — 

Any violent blow to the head or an object that penetrates the skull can damage the brain. A mild TBI sometimes affects a victim's brain function for only a relatively short period. Severe TBIs, however, can cause bruising, bleeding, and other physical damage to the brain that results in long-term cognitive and physical complications and even death. Workplace TBIs are commonly caused by motor vehicle accidents, slip and falls, and falling objects.

Exposure to Toxic Fumes — Workers in the manufacturing and construction fields are most likely to be exposed to toxic fumes. In many cases, victims do not realize the damage toxic fumes have done to their health until symptoms develop after several years of exposure. Long-term exposure to toxic fumes in the workplace can damage internal organs and cause serious diseases, including cancer, chemical pneumonia, 

asthma, and other respiratory ailments. 

Hearing Loss and Deafness — 

Hazardous noise levels in the workplace can cause permanent hearing loss. This type of injury most commonly occurs in workers in the manufacturing, construction, agriculture, and mining industries. Statistics show that 

hearing loss is the most common work-related injury

. 

Electrocution — 

Caused by an electric shock to the body, electrocution can result in burns, damage to internal organs, cardiac arrest, permanent paralysis or disability, and even death. Construction workers, including electricians and carpenters, are at particularly high risk of electrocution.

Burns — 

Burn injuries in the workplace may be caused by fire, chemicals, radiation, or electricity. Kitchen workers, welders, and factory workers are at particular risk. Severe burns can cause deep tissue damage as well as permanent disability and disfigurement.

Fractures — 

A fracture occurs when impact or stress causes a bone to break. These injuries can happen in any industry and commonly result from slips and falls, motor vehicle accidents, falling objects, and heavy equipment. Fractures result in extended absences from work and can lead to lasting impairments.

Repetitive Motion Injuries — 

Injuries caused by repetitive motion are common to workers across various industries and occupations, from painters and carpenters to clerical staff and healthcare workers. Symptoms include pain, numbness, tingling, and weakness in the affected area. The most common injuries caused by repetitive motion include carpal tunnel syndrome, tendinitis, tennis elbow, and trigger finger.
Common Workplace Injury Statistics
Statistics from the National Safety Council (NSC) paint a grim picture of just how common workplace injuries are. There were 4,113 preventable workplace injury-related deaths across the United States in one recent year alone, while 4 million workplace injuries required medical consultation. 
Those statistics are alarming, but they do not reflect the true number of workplace injuries that actually occurred. Many workers never report their injuries to their employer and do not seek medical treatment or financial compensation for them.
Data from the NSC and the Occupational Safety and Health Administration (OSHA) show that the construction industry presents the most risk to workers, accounting for one in five workplace deaths.
Some of the other most dangerous industries are:
Transportation

Warehousing

Agriculture, forestry, fishing, and hunting
How to Prevent Workplace Injuries
Employers are responsible for their workers' safety while on the job.
Most workplace accidents could have been prevented if employers:
Complied with all applicable OSHA regulations and standards

Promoted safety awareness through participation in regular employee training

Enforced and complied with rules regarding safety equipment and attire

Routinely checked for safety hazards, effectively communicated them to employees, and took steps to fix or remove them as soon as possible
Injured at Work in Owings Mills? Contact Our Owings Mills Attorneys
If you have been injured at work, you must act quickly to seek the workers' compensation benefits you're owed. The Owings Mills workers' compensation attorneys at Cohen & Dwin, P.A. have over 100 years of combined experience fighting for the rights of injured workers in Maryland.
Contact us now to schedule your free consultation.