Construction Site Accident Lawyer in Owings Mills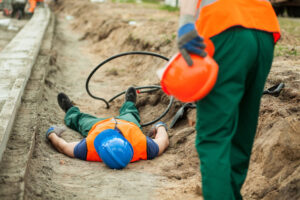 Every day, employees and contractors on construction sites work on small- and large-scale projects to create new homes, build businesses, and maintain local infrastructure in Owings Mills. Unfortunately, construction sites are also prone to many safety hazards and accidents that can cause devastating injuries for workers and visitors alike.
If you were injured in a construction site accident in Owings Mills or elsewhere in Maryland, you may be entitled to compensation. The Maryland personal injury attorneys of Cohen & Dwin, P.A., are prepared to help you hold negligent parties responsible and seek the money you need to get back on your feet.
Contact us today to learn more about your legal options in a free initial consultation.
Common Causes and Types of Construction Accidents in Owings Mills
Here are some of the most common types of construction accident cases our attorneys handle:
Slips, trips, and falls – Construction sites are commonly littered with debris, tools, and other materials that present potential tripping hazards. Slippery surfaces, wet floors, uneven flooring materials, and broken staircases can also contribute to slip and falls.
Falls from heights – Many construction jobs require workers to climb scaffolds, ladders, or rooftops, which can lead to dangerous falls from heights. Falls can also occur when unstable trenches or excavated sites collapse.
Overexertion accidents – Construction workers are often expected to work long hours in oppressive heat and humidity. Workers can easily sustain overexertion injuries from dehydration, repetitive motion strain, or improper lifting techniques.
Falling or flying objects – Construction tools and building materials can cause severe injuries if they fall from heights or get flung across workspaces.
Hazardous exposure – Exposure to toxic substances, gas leaks, radiation, and even loud sounds can result in many types of injuries or illnesses when people on construction sites lack adequate personal protective equipment (PPE).
Electrical hazards – When construction is still in progress, there are often exposed cables and unfinished electrical connections throughout the site, which can result in shocks or even electrocutions to individuals who come in contact with them.
Explosions and fires – Exposed wiring, chemical leaks, and equipment malfunctions can lead to fires or even explosions on construction sites. These can cause severe burns, inhalation injuries, and permanent disfigurement.
Heavy equipment accidents – Construction workers often use heavy equipment such as jackhammers, cranes, bulldozers, backhoes, and forklifts. When workers fail to use these large tools properly, tragic injuries or even fatalities can occur.
Transportation accidents – When construction sites are located along highways or other high-traffic areas, transportation accidents involving construction equipment or personal vehicles can occur. Delivery trucks also pose a risk on construction sites.
Inadequate training or maintenance – If construction workers do not receive adequate safety training or properly-maintained equipment, they are more likely to cause or sustain severe injuries from misused or defective tools.
Construction Site Accident Injuries
Injuries from construction site accidents can vary from relatively minor scrapes to life-changing trauma and even death. Some common construction site accident injuries include:
Head injuries
Traumatic brain injuries (TBI)
Spinal cord injuries and partial or total paralysis
Traumatic amputations
Burns from electric shocks, fires, and chemicals
Dislocated or fractured bones
Soft tissue sprains, strains, and tears
Bruises, lacerations, and puncture wounds
Respiratory illnesses from inhalation injuries
Eye injuries and hearing loss
Dehydration and heatstroke
Post-traumatic stress disorder (PTSD)
Wrongful death
Getting Fair Compensation for Construction Accident Injuries
Depending on your circumstances, you could have several potential sources of compensation after a construction accident in Owings Mills, such as:
A workers' compensation claim – If you sustained an on-the-job injury as a construction site worker, you may be entitled to benefits through a workers' comp claim. Maryland law requires most employers to provide employees with workers' comp coverage, which can provide medical benefits and replace a portion of lost wages after an on-the-job injury.
A third-party personal injury claim – If you are an injured worker, you are prohibited from filing a lawsuit against your employer directly in most cases. However, you may have grounds for a third-party injury lawsuit if someone other than your employer or co-workers were responsible for your injuries.
A motor vehicle accident claim – If your injuries resulted from a transportation accident in a construction area, you could recover compensation by filing an auto insurance claim against the at-fault driver.
A premises liability claim – If you were injured on a construction site due to the property owner's negligence, you might be entitled to compensation through a premises liability claim. This is a type of personal injury claim in which a negligent property owner is held responsible for preventable injuries that occurred on their property.
Can You Recover Compensation If You Were Partly at Fault for a Construction Accident?
Maryland follows a strict doctrine known as contributory negligence. Under this legal rule, injury victims are prohibited from recovering compensation if they are even 1 percent at fault for the accident that harmed them. One notable exception includes workplace injuries, for which eligible employees can receive no-fault workers' comp benefits.
These distinctions are why it's so important to work with a knowledgeable attorney after a Maryland construction site accident. Your lawyer may help you obtain evidence to demonstrate the facts of your case, hold responsible parties accountable, and obtain the compensation you are owed.
What to Do After a Construction Site Accident
In the aftermath of a construction site accident, it's essential to start thinking about how your actions could affect your health and injury claim. You can protect your legal right to recover by:
Seeking prompt medical attention for your injuries
Following your doctor's prescribed care plan
Reporting the accident to your employer, the police, or the site owner as needed
Collecting photos, witness statements, and other evidence from the scene
Keeping track of medical bills and other documentation of financial losses
Avoiding discussing the accident with others or posting about it on social media
Contacting a knowledgeable construction site accident attorney for guidance
Contact our Experienced Owings Mills Construction Accident Lawyers Today
At Cohen & Dwin, P.A., our attorneys are dedicated to helping Owings Mills injury victims demand the compensation they deserve after construction site accidents. To discuss the details of your situation with an attentive member of our team, contact us today to get started with your free initial case review.