Owings Mills Wrongful Death Attorney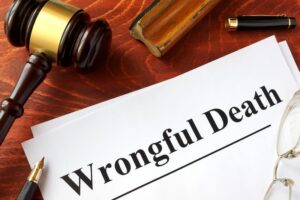 While losing a loved one is always a tragedy, that tragedy can be compounded by anger if another person's reckless behavior caused the death. While nothing can make up for the preventable loss of life, you and your family could obtain a degree of justice by pursuing a wrongful death lawsuit against the negligent party. This may help cover costs such as funeral and burial expenses, medical bills, and loss of income, as well as compensate you for the pain and suffering your loved one experienced and your loss of companionship.
If you have lost a family member because of someone else's negligence in Owing Mills, contact the wrongful death attorneys at Cohen & Dwin, P.A. for a free and confidential consultation about your legal options. Our compassionate attorneys have the experience and resources to fight for the compensation that you deserve in the wake of this family tragedy.
What Is a Wrongful Death Lawsuit?
A wrongful death lawsuit is a special type of personal injury case that seeks to recover financial and non-financial losses related to a family member's death. A wrongful death claim can be brought against anyone whose actions or negligence resulted in a preventable death.
Only the descendant's surviving spouse, children, parents, or a close family member who was "substantially dependent" on the deceased can bring a wrongful death claim in Maryland. Wrongful death lawsuits are civil cases, not criminal cases.
Our experienced wrongful death attorney in Owings Mills can help you understand if you may be able to bring a wrongful death lawsuit given the specifics of your situation.
Wrongful Death Laws in Owings Mills, Maryland
Maryland state law dictates that legal action can be taken against any party who causes another person's death through negligence or wrongful acts. Wrongful death lawsuits can also be brought against the manufacturers of defective or dangerous products that cause fatal injuries.
A wrongful death lawsuit is a specific type of personal injury lawsuit in which the injury victim is unable to make their case before a court due to their death. As a result, the decedent's survivors are permitted by law to take legal action against the negligent party or parties that caused their loved one's death.
Wrongful Death Settlement Amounts in Owings Mills
The amount of money your family could receive through a wrongful death lawsuit will vary depending on the specific circumstances of your case. That said, wrongful death settlements are often larger than other personal injury settlements because of the scope of the damages involved.
You and your family members could be entitled to recover compensation for financial and non-financial losses, including:
Medical expenses incurred by your loved one before death
Funeral expenses
Burial costs
Loss of future earnings due to the decedent's death
Loss of enjoyment of life
Loss of companionship and consortium
What Types of Accidents Can I File a Wrongful Death Claim For?
Wrongful death claims can be filed on behalf of the surviving family members of deceased individuals who sustained fatal injuries in various circumstances.
Some of the most common types of accidents that result in wrongful death claims include:
Car crashes
Commercial truck and motorcycle accidents
Nursing home abuse and neglect
Product liability 
Dangerous conditions in the workplace
Pedestrian and bicycle crashes
Premises liability accidents 
Who Qualifies to File a Wrongful Death Claim?
A decedent's beneficiaries typically bring a wrongful death lawsuit. According to Maryland state law, the following individuals might qualify to file a wrongful death claim on behalf of their deceased loved one:
The decedent's surviving spouse
The decedent's surviving children
The decedent's surviving parents
In most cases, these family members are the only individuals who qualify to file a wrongful death lawsuit in Maryland. However, there is an exception to the rule. If none of the primary beneficiaries are living, then the decedent's next-of-kin are permitted to file a wrongful death lawsuit, as long as they can demonstrate that they are related by blood or marriage and show that they were "substantially dependent" on the decedent.
In Maryland, the decedent's estate is also permitted to make its own claim for compensation against the negligent party to recover damages for the decedent's estate. The personal representative of the decedent's estate typically brings this action.
It is also important to note that all beneficiaries of a wrongful death claim should act together and be listed as plaintiffs in the filing. An experienced wrongful death lawyer in Owings Mills can ensure that this is properly handled.
Statute of Limitations for Wrongful Death in Maryland
In most cases, the statute of limitations for wrongful death cases in Maryland is three years. This means that the decedent's surviving family has three years from the date of the decedent's death to file a wrongful death lawsuit.
However, there is one notable exception to the typical statute of limitations. If the decedent suffered from an occupational disease or an illness acquired in a hazardous workplace, a separate statute of limitations applies. The surviving family members of the person who passed must bring their wrongful death lawsuit against the negligent party within three years of learning that an occupational disease caused their loved one's death, or within 10 years of the person's date of death, whichever comes first.
Contact an Owing Mills Wrongful Death Lawyer Today
Losing a loved one due to a third party's negligence of can be emotionally devastating. However, recovering money for the financial losses that resulted from your loved one's death can help take some of the burdens off your shoulders. It can also give your family a sense of closure and justice on behalf of the deceased.
At Cohen & Dwin, P.A., we have the resources and experience to conduct an independent investigation into your loved one's death, quickly gather and preserve valuable evidence to support your case, identify the negligent party or parties involved, and aggressively pursue the full amount of compensation you need to recover financially in the wake of a family tragedy.
Contact our attorneys for a free consultation as soon as you are ready to explore your options.