Owings Mills Whiplash Car Accident Attorney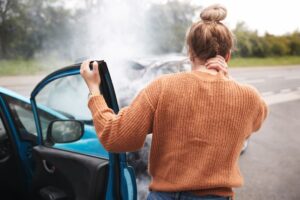 Whiplash is one of the most reported injuries associated with car accidents in the U.S. Peer-reviewed medical research suggests that approximately 869,000 people are seen in hospitals for neck injuries related to car accidents every year. At least 841,000 of those people complain of whiplash.
Common does not mean minor. Whiplash can be a debilitating condition that leads to chronic pain and impairment. If you suffered whiplash or any other neck injury due to an Owings Mills car accident that was someone else's fault, you should consult an experienced personal injury attorney as soon as possible.
At the law firm of Cohen & Dwin, P.A., we are dedicated to helping people like you seek the compensation they deserve. Contact us today for a free consultation with an Owings Mills car accident whiplash attorney.
What Is a Whiplash Injury?
Whiplash is a type of injury to the soft tissue of the neck. It is most often caused by the forcible and sudden snapping of the neck forward and backward in a motion that resembles the cracking of a whip. Although whiplash commonly affects the muscles and ligaments of the neck, it can also cause damage to spinal vertebrae, disks, and nerves.
Causes of Whiplash in Owings Mills Car Accidents 
Many whiplash injuries result from rear-end car accidents, in which the front end of one car collides with the back of the vehicle ahead of it in traffic. Rear-end crashes are common at red lights and stop signs, intersections, and congested traffic conditions. They often occur due to:
Distracted driving
Drunk driving
Speeding
Tailgating
Hazardous road conditions
The force of rapid acceleration from a still position puts considerable strain on the occupants of the impacted vehicle. While a seatbelt keeps the torso from moving, the head is free to fling forward and backward, causing injuries to the neck.
Treating Whiplash After a Car Accident
Treatment options for whiplash generally depend on the severity of the injury. In some cases, rest and over-the-counter pain relievers are sufficient. In more severe cases, a physician may prescribe muscle relaxants, a course of physical therapy, or a cervical collar to restrict movement.
Some severe cases of whiplash require surgical intervention to repair the effects of torn ligaments, fractured vertebrae, or extensive inflammation or swelling.
Symptoms of a Whiplash Injury 
The most common symptom associated with whiplash is neck pain and stiffness. Other symptoms include:
Shoulder pain
Lower back pain
Dizziness
Numbness or tingling in the arms and hands
Blurred vision
Loss of range of motion in the neck
Headaches
Fatigue
Sleep disturbances
Irritability
Ringing in the ears
These symptoms sometimes take days or longer to manifest. The adrenaline coursing through your body after an accident can mask the initial signs of whiplash, which is why you should seek medical attention immediately after a car crash. A medical professional can evaluate, diagnose, and treat your condition. If untreated, whiplash and other neck injuries can lead to chronic pain and long-lasting medical complications.
Proving Liability for Whiplash in Owings Mills 
The person who causes an injury is liable for compensating the injured party for the harm they suffered. Establishing liability requires strong evidence of fault, such as information from accident reports, footage from traffic and security cameras, and testimony from bystanders and expert witnesses. Such evidence can be challenging to acquire without the resources and skills of an experienced attorney.
Furthermore, Maryland follows a contributory negligence system that bars injured parties from seeking compensation if they are in any way responsible for their injuries. Although the contributory negligence rule only applies directly to court decisions, insurance adjusters make decisions based on how they think a court would rule if a case went to trial. If an adjuster believes a court would find you in any way at fault, they may offer a lowball settlement, hoping you would accept it rather than risk the possibility of receiving no compensation at all. Our personal injury lawyers know how to push back against these tactics and establish that liability rests entirely with the insurance company and its policyholder.
Compensation for Whiplash in Owings Mills
If you suffered whiplash in a car accident that was not your fault, you could be entitled to compensation for the following losses:
Medical expenses

, including medical devices and physical therapy

Lost income

if you missed time at work

Reduced earning capacity

if your injuries are permanent

Loss of quality of life
Pain and suffering
The total value of your claim will depend on several factors. The two most important factors are the circumstances of the car accident and the severity of your injuries. An experienced Owings Mills whiplash injury lawyer can evaluate your unique situation and calculate the fair value of your case. It is always in your best interest to consult a knowledgeable attorney before accepting any settlement offer and signing away your legal rights.
How Our Lawyers Help People with Whiplash from a Car Crash
When you are in significant pain and trying to cope with the aftermath of a traumatic event, you need experienced legal representation to fight for your interests. At Cohen & Dwin, P.A., we can help you pursue the compensation you deserve while you focus on healing and moving on with your life. 
Our skilled whiplash injury attorneys in Owings Mills can evaluate your situation and help by: 
Conducting a detailed investigation

into the cause of the crash

Gathering crucial evidence

to establish liability

Calculating the value

of your claim

Managing communications

with the insurer and other attorneys

Negotiating on your behalf

for maximum compensation

Preparing a case for court

if necessary
Contact a Whiplash Lawyer in Owings Mills for Help Today 
Have you been injured by a careless driver and diagnosed with whiplash or other significant neck injuries? You do not have to navigate the confusing car accident claims system alone. At Cohen & Dwin, P.A., we are ready to use our combined century of experience to help you demand the full compensation you deserve. 
Contact us today to get started with a free consultation.