Owings Mills Work Injury Attorney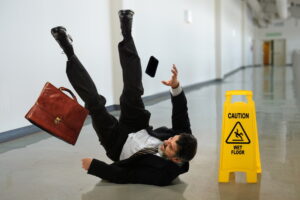 Accidents can happen anywhere in Owings Mills – even at work and even when your job seems safe. When you're injured in a workplace accident, the resulting harm can lead to intense pain and long-term consequences for your livelihood. Some injured employees are never able to return to their jobs, leaving them feeling anxious about how they will afford medical bills and ongoing expenses.  
If you have suffered a workplace injury in Baltimore County, you may be eligible to file a workers' compensation claim for benefits to cover your medical bills and part of your lost income. Our Owings Mills workplace accident attorneys can explain your rights under Maryland workers' compensation laws and help you pursue the maximum benefits available. The legal team at Cohen & Dwin, P.A., has extensive experience representing clients in workers' compensation claims and personal injury cases related to on-the-job injuries. We are ready to fight for the full compensation you deserve.
Contact us today for a free consultation with a workplace injury attorney in Owings Mills, MD.
Maryland Workplace Accident Statistics
On-the-job personal injuries are far more common than many workers realize, and they can be fatal. According to the Bureau of Labor Statistics, 80 people lost their lives in accidents at work in Maryland in a single recent year. The most life-threatening injuries in Maryland occur in the following fields:
Government work
Transportation
Warehousing
However, workplace injuries can happen in any job, and injured workers have a right to recover compensation. Although filing a work injury claim can be complicated and overwhelming, our knowledgeable attorneys can handle the challenging legal work for you so you can focus on healing.
How Do Workplace Accidents Occur?
Workplace accidents can occur for many reasons, including the following examples:
Unsafe working conditions

– These include slippery floors, unguarded machinery, poor lighting, insufficient ventilation, and lack of fall protection. Employers are required to provide a safe working environment.

Lack of safety gear

– Workers should have access to equipment like hard hats, goggles, gloves, and respirators when necessary.

Lack of training

– Employees should receive thorough training on how to perform their jobs safely. Insufficient training often contributes to accidents.

Fatigue

– Working long hours can lead to mental and physical exhaustion, slowing reaction times and increasing errors. Fatigued employees are more prone to accidents.

Faulty equipment

– Using damaged tools, ladders, scaffolding, or another type of defective product exposes workers to harm. Employers should properly maintain equipment.
What Should I Do If I Am Injured at Work?
If you suffer an injury at work, seeking medical care should be your number one priority. It is also essential to take these steps:
Report the injury

. Notify your supervisor immediately and file an incident report detailing when, where, and how you were injured. Prompt reporting helps establish your claim.

Document the incident

. Write down the names of witnesses, take photos of unsafe conditions, keep doctor's reports, and save evidence that could help prove your claim.

Contact a work injury lawyer in Owings Mills

. Our experienced attorneys know how to file Owings Mills work injury claims so we can handle the complicated workers' comp process for you. You should not have to deal with your employer's insurance company alone.

 
Types of Owings Mills Work Injury Cases We Handle
At our law firm, we have experience handling the full range of workplace accident claims, including:
Slips-and-falls

 – Slippery surfaces, cluttered walkways, and unaddressed spills are among the common causes of falls at work, often resulting in common injuries such as back injuries, shoulder injuries, fractures, traumatic brain injuries, and other harm.

Repetitive strains

 – Repeating the same motion over the course of weeks, months, and years can lead to painful repetitive stress injuries like carpal tunnel syndrome and tendinitis. These gradually developing injuries can still be eligible for workers' comp benefits.

Falling objects

 – Tools, materials, or debris falling from heights frequently cause head and body trauma on construction sites and in industrial settings or warehouses.

Cuts and lacerations

 – Operating machinery, using knives, and handling sharp materials can easily lead to deep gashes and severed fingers in workplace accidents.

Exposure to toxic fumes

 – Inhaling harmful dust particles, chemical vapors, or fumes at work can cause respiratory diseases, cancer, and other severe illnesses with lifelong effects.

Industrial deafness

 – The loud noises in factories, construction, and other settings can gradually erode hearing over time.

Car accident injuries

 – Crash-related injuries are common for drivers, delivery workers, sales reps, and other employees who operate vehicles for work.

Wrongful death

– The most severe accidents may have fatal consequences for workers. Our law firm helps surviving family members seek financial compensation for losses related to the death of a person injured at work.
Our occupational injury lawyers in Owings Mills help injured clients recover compensation for any type of personal injury at work. Contact us today to discuss your situation with a personal injury lawyer.
Knowing Your Rights If You Get Injured in the Workplace in Maryland
If you suffer a workplace injury, it is crucial to understand your legal rights under Maryland law: 
You have a right to receive workers' compensation benefits

to cover medical expenses and lost wages associated with your work-related injury. You are eligible for these benefits even if you were partially at fault, except in limited circumstances.

It is illegal for your employer to punish, fire, or discriminate against you

for reporting an injury or filing a workers' comp claim.

You have a right to prompt medical treatment

through a doctor who is authorized to treat work-related injuries.

You may be eligible for temporary total disability benefits

if you must miss work while recovering.

You have a right to permanent partial or total disability benefits

if your injury causes permanent impairment.

Your employer must provide vocational rehabilitation services

if you cannot return to your prior job.

You have a right to appeal any denial or dispute

of your workers' compensation claim.
Knowing your legal rights is critical to getting fair compensation after a workplace injury. Our experienced work injury lawyer in Owings Mills can help you understand and assert your rights. 
Do You Need an Owings Mills Work Injury Lawyer?
Seeking justice after getting hurt at work can sometimes feel like an uphill battle. Obtaining legal assistance from our workplace injury lawyers in Owings Mills can help you feel more confident as you seek the financial support you deserve. 
Since 1977, the experienced team at Cohen & Dwin, P.A., has provided dedicated legal representation for injured workers. We treat our clients with the compassion and respect they deserve as we fight passionately for their rights.
Contact us today for a free consultation and find out how an injury lawyer from our firm can help you seek compensation for your financial losses.